Brahms's Intermezzi - Tenderly Lyrical Piano Music
Each Brahms Intermezzo has a peaceful tenderness, reflecting the composer's late-life introspection.
The 18 short intermezzi are some of the very last solo piano pieces Brahms ever wrote. Listeners and pianists frequently overlook them since they're not grand or exciting.
But in my opinion, they're hugely worthy pieces. They're some of the most intimate, thoughtful pieces Brahms ever wrote - an excellent insight into the composer's mind!
The music in Brahms's Intermezzos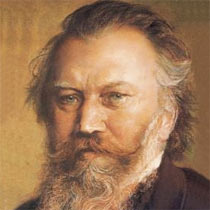 An intermezzo was historically a piece that goes in the middle of two others things, like the acts of an opera or a big musical suite. It's essentially a divider.
But Brahms's are different. First of all, they weren't created connect other things together. They're mostly independent pieces which are part of collections of works for solo piano.
Secondly, they're more like character pieces, each with a different identity and exploring a single idea.
They have a huge range of different emotions and shades of color, and a feeling of intellectual maturity. I would almost call them musical poems!
Actually, Brahms used the term 'intermezzo' quite freely. He called most of his late pieces which weren't passionate or flighty an intermezzo for the sake of convenience.
Still, the pieces are a massive testament to Brahms's supreme composing ability. He manages to make the interezzi easy to understand and enjoy, but also have enough subtlety and complexity for music theorists to chew on.
Brahms wrote 18 intermezzi in total, spread out across various collections of solo piano music. There are groups of intermezzos in the following collections of solo piano music in Brahms's output:
Op. 76, 8 piano pieces (1878)
Op. 116, 7 fantasies (1892)
Op. 117, 3 intermezzos (1892)
Op. 118, 6 piano pieces (1893)
Op. 119, 4 piano pieces (1893)
As you can see, Brahms wrote most of the intermezzi when he was quite old.
Indeed, the Op. 118 and 119 sets are the last two pieces Brahms ever wrote for solo piano. They both had their premiere in London in 1894.
Popular Intermezzos
The most popular Brahms intermezzo is Op. 118 No. 2. It's a sweetly melancholy piece, with a strong tinge of melancholy.
Another popular Brahms intermezzo is Op. 117 No. 1. The composer himself called this set of intermezzi "lullabies to my sorrows".
The poem, "Lady Ann Bothwell's Lament" inspired Brahms to write the first two. They definitely have the feeling of sad lullabies.
Great Recordings
My favorite interpreter of the Brahms Intermezzos is the eccentric Canadian pianist Glenn Gould.
Gould manages to play the intermezzos with a deeply poetic delicacy, an an almost improvisational style. His interpretations are lyrical and very touching.
He made a wonderful recording of 10 of the intermezzos, which is available on Sony BMG Europe.
Another great interpreter of the intermezzi is Wilhelm Kempff, although his recordings are harder to find. He plays with a very mature elegance, and manages to capture all of the extremely subtle shifts of mood and color.
He recorded a few Brahms intermezzos in the early 50s, which are part of a box set of other pieces by various composers on Deutsche Grammophon.
Here's Kempff playing the Op. 119 No. 2 Intermezzo:
You might also like Brahms's Requiem.
The Intermezzi are also similar in emotion and style to many of Frederic Chopin's piano music.
If you like my site, please click "Like"... thanks!