Johannes Brahms Biography
Traditional Music, Romantic Passion
Johannes Brahms's noble, traditional music matched his stubborn but kind-hearted personality. Let's explore this classical music giant's life and works...
He's one of the "Three B's", the trio of genius composers seen as the cornerstones of classical music: Bach, Beethoven, and of course Brahms.
Johannes Brahms's music conforms to Classical-era standards of form and structure. His enemies said that this made him conservative and boring - an old-fashioned writer of complicated music.
But his fans disagreed! They saw him as keeping the old traditions alive with integrity. The two camps had a "war" (that's what they called it!) which divided all of musical society in Europe.
Personally, I'm quite fond of Brahms's music. It has an exquisite charm which I think comes from how complex it is, while still being beautiful.
Contents:
Brahms's Life
Brahms's Music

First, let's take a look at the life story of this great composer...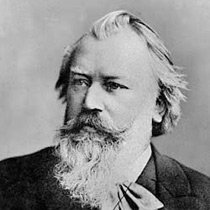 Johannes Brahms was born in 1833, in Hamburg, Germany. His parents had no doubt that he would become a musician.
Brahm's father was a double bass player, and gave Johannes basic music training.
There's a legend that because the Brahms family was poor, his parents would haul young Johannes out of bed at night to play the piano in seedy brothels.
The story isn't true though, although Brahms himself seemed to have originated it!
When Brahms was 20, he went on a carefree summer tour of Northern Germany with the gypsy violinist Eduard Remenyi. On this tour he managed to get introduced to the great composer Robert Schumann, and his wife Clara Schumann, a hugely talented pianist.
Brahms worshiped them, and they were very fond of him.
In fact Robert was so impressed with Johannes's talents that he wrote a glowing article about the young musician. The public noticed Brahms because of this, and started to demand him to play piano in Hamburg.
This was the lucky break that put him on the road to greatness - all from one article!
Robert Schumann died a few years later, but Brahms kept up a strong relationship with Clara Schumann for the rest of his life.
Johannes Brahms kept composing steadily throughout his whole life, slowly gaining more and more recognition. In 1868 his German Requiem was premiered. It was very successful, and secured his reputation all over Europe as a great composer.
Johannes Brahms died on April 3, 1897, from cancer. Clara Schumann had died under a year earlier, devastating Brahms. The great composer lies buried in Vienna.
Brahms's life actually doesn't feature that many memorable events. He lived in Vienna most of his life, enjoying a calm life of routine and simple pleasures.
He used to visit his favorite tavern, The Red Hedgehog, so often that newspapers caricatured him as one!
Johannes Brahms was a bachelor his whole life, and was often lonely, even though he liked solitude. He had a reputation as being snappy and sarcastic, but his friends said he was also tender and generous.
He gave away money to support up-and-coming musicians and his own family. This adds to my impression of him as a kind-hearted, grandfatherly figure. When he visited hotels he would take his shoes off so he wouldn't wake up sleeping servants!
He was also philosophically mature and extremely insightful, even at a young age. Clare Schumann wrote about the 20 year old Brahms "He is so masterful that it seems God sent him into the world complete."
He loved nature and liked to take long walks in the countryside, giving out sweets to children he met along the way.
One story about Brahms which I like involves his dislike of paying custom tax.
Once, he stuffed a socking full of his favorite tobacco, to try to smuggle it over the border. He thought he'd easily fool the customs official, but he had obviously never done this before since he was quickly found out!
Click for a big collection of pictures of Brahms (in german).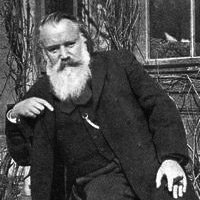 Johannes Brahms's music has some kind of god-like, profound quality. It's hard to imagine a mere mortal being able to compose some of the moving and atmospheric music which flowed from his mind.
He was deeply inspired by Classical-era composers such as Mozart (click for biography) and Haydn. He also worshiped Beethoven - he had a marble bust of the great composer overlooking his desk! (Now that's pressure...)
Because of this, Brahms's music is very traditional and ordered (he actually wrote it with a quill, which was out of fashion even back then).
All of it is absolute music, which means that it has no inspiration outside of music (e.g. like a painting or a novel). It's pure - music for the sake of music.
A lot of his contemporaries didn't like this, though.
There was a huge rivalry between Johannes Brahms, who represented traditional forms, and the so-called New German School (led by Liszt and Wagner), who represented advancement and new techniques.
This war (called the War of the Romantics) separated the whole of Europe's musical society right down the middle!
The New School thought that Brahms's music was old-fashioned. Brahms thought that their music was opulent and excessive. Would they ever get along?
He actually did admire some of their music, but didn't like the way they stretched and bent the rules until they almost broke them.
Critics eventually acknowledged Johannes Brahms as great because of his huge, complex orchestral masterpieces. But he became popular with the public (and quite wealthy) from his smaller pieces, such as the Hungarian Dances.
Popular and Famous Works
Piano Concerto No. 1 in D Minor, Op. 15. An epic piano concerto. The audience hissed at it during the premiere, and the critics destroyed it. Poor Brahms! He wanted to have the piano and orchestra as equals in this piece, but I guess people weren't ready for that at the time...
A German Requiem, Op. 45. This is Brahms's biggest work, a massive and striking choral piece based on texts from the Bible. Its beauty and complexity gave Brahms a strong reputation across Europe.

Wiegenlied (Brahms Lullaby), Op. 49 No. 4. This is popularly know as the "Brahms Lullaby". One of the most famous songs in the entire world, Brahms composed the soothing melody for a friend's child.
Brahms Symphony 1, Op. 68. People sometimes call it "Beethoven's Tenth", since it reminds them of Beethoven's symphonies. This piece established Brahms as a master of the great symphony, which musicians considered the grandest form of music.

Which is maybe why Brahms claimed that it took him 21 years to write...

Violin Concerto in D Major, Op. 77. Brahms wrote this for his violinist friend Joseph Joachim, who introduced him to Schumann. The concerto has a very free-flowing feel to it, and I really like the complexity of the violin solo. The third movement is an energetic Hungarian finale.
Academic Festival Overture, Op. 80. A rousing and cheeky collection of student drinking songs, which Brahms stitched together, complexified, and gave the "orchestral treatment" to. It was a "thank you" for the honorary doctorate the University of Breslau gave him.

The academics in the audience at the premiere were gleefully delighted at how subtly brazen the piece was.

Tragic Overture, Op. 81. This is the weightier and much more solemn balance to the light-hearted Overture above. It opens with two powerful chords which shock listeners into attention, and follows with a dark and dramatic tone for the rest of the piece. Strong stuff!
Intermezzo, various Opus numbers. Brahms's intermezzi, some of his latest piano music, are tender and moving. Here we see Brahms in his most introspective state.
Double Concerto in A Minor, Op. 102. This work is extremely difficult for soloists (violin and cello), especially since they need to have equal skills to perform it properly. I love the passionate melodies in this piece, and the way Brahms combines both the Violin and Cello to create really exquisite passages.

Brahms wrote it as a way to try to fix his friendship with the violinist Joseph Joachim after they had had a disagreement when Joachim got divorced. Hopefully it worked!

Hungarian Dances. Johannes Brahms didn't give these hugely popular gypsy dances an opus number because he didn't consider them original compositions. They're some of his best-known music, and are full of lively gypsy imagery. Very fun!
For a quick blast of Brahms's best music, have a look at The Best of Brahms CD on Naxos...
More on Johannes Brahms
The soothing Brahms Lullaby.
Brahms super-famous Hungarian Dances - dizzying gypsy fun!
Brahms Symphony 1 - The reputation-solidifying epic
The Europe-wide hit A German Requiem, which put Brahms on the musical map.
The touching, nature-inspired Brahms horn trio, an elegy to the composer's loved ones.
His first and second Piano Concertos, written two decades apart.
The beautiful late Brahms Intermezzi.
My favorite, Brahms's Academic Festival Overture, a cheeky orchestral drinking-song.
If you like my site, please click "Like"... thanks!