Brahms Piano Concertos 1 & 2 - Grand, Majestic Music
Brahms wrote two great piano concertos at very different times in his life.
The Brahms Piano Concerto No. 1 is an exciting and youthful attempt, which listeners didn't like too much at first. The second piano concerto is a more mature piece, which Brahms wrote when he was older and well-established.
Contents:
Piano Concerto No. 1 in D Minor
Piano Concerto No. 2 in B-flat Major
Recordings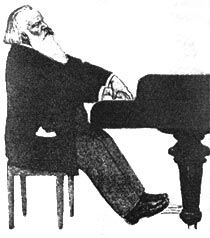 Brahms's first piano concerto began life as a few sketches for orchestra
which Robert Schumann persuaded Brahms to try writing. But these didn't turn out so well...
Schumann became ill in 1854, and had to go to a mental asylum after trying to commit suicide.
Brahms was devastated at the collapse of his dear friend and mentor, as well as the impact it had on Clara Schumann (Robert's wife).
His anguish sparked a creative desire to express his feelings. He slowly combined his orchestral sketches with a piano piece he had been working on, creating an autobiographical work.
But it took years for the piano concerto to grow and shape in Brahms's mind. At this point he had gotten over the grief which inspired him to begin the piece.
He finally finished it in late 1856, and it was premiered in Hanover in 1859. During its first few performances, the audience's reaction was pretty negative - they actually hissed at the piece during the second performance!
Listeners thought it was strange and confusing. You have to keep in mind that Brahms was only in his mid 20s at the time, and had pretty much no experience in writing for orchestras.
Brahms didn't stick to the expected way of writing concertos, either. His piano soloist blends in with the orchestra as an equal, instead of being the flashy star attraction supported by everyone else. It was more of a symphony, with a pianist there to help out.
Here's a quick breakdown of the three movements, where we can see Brahms sticking to 18th-century rules...
Maestoso (Majestically): a dark and powerful movement, which is long and quite complicated.

Brahms stretched the traditional sonata form (a musical structure used in the first movement of symphonies), which allowed him to express his grief about Schumann, but keep things ordered and proper.



Adagio (Slowly). The sweet second movement is very intimate, almost like a prayer.


Rondo (a musical structure which alternates a repeating single passage with different new passages). This exciting finale is my favorite part of the first Brahms piano concerto! A lively ending.
And now...
Two decades after the his first piano concerto, Brahms was a well-established composer
, with a strong reputation all over Europe. People loved him!
Since he was now much more self-confident he decided to tackle another piano concerto. He had stayed away from writing one for a while, because of the reaction to his earlier attempt. I think I'd feel the same way!
He said that if he were to write another piano concerto, it "will sound different". He was true to his word. He finished it in 1881, and sent an ironic note to a friend that he had written "a tiny little piano concerto".
Brahms must have been feeling humorous that day - his 'small, fragile concerto' was actually one of the biggest and most forceful in decades! It even had an extra fourth movement (concertos usually have three), making it like a huge symphony.
Brahms himself performed the premiere. What an amazing concert that must have been...
Here are the movements:
Allegro non troppo (quickly, but not too much): This movement opens with a wonderful melody on a single french horn, and continues with powerful and majestic music for the duration.


Allegro appassionato (quickly, passionately): An unusual tempo, since the second movement is usually slow. This is a scherzo, normally sprightly and fun, but here quite dark.


Andante (walking pace): a calmer, more intimate movement. I see it as a quiet break from the previous two movements. It leads to...


Allegretto grazioso (a little quickly, gracefully): A highly structured movement, which is lively and rousing. A great way to end this massive concerto!
My favorite recording of both Brahms piano concertos is probably the Decca live recordings with pianist
Nelson Freire, and Riccardo Chailly conducting the Leipzig Gewandhaus Orchestra
.
This is an explosive, magical performance, which really brings out the raw power in Brahms's music.
Anther great recording is from pianist Emil Gilels, with Eugen Jochum conducting the Berlin Philharmonic Orchestra. The first thing which strikes you about this recording is the immediacy and power of the orchestral playing - it feels like it powers into your brain!
Gilels's playing is beautifully controlled, with the mathematical precision of touch which I feel Brahms needs, but with a delightful musicality that matches the mood at every moment. This is a very highly regarded recording, and although it's not my favorite, I recommend it as a runner-up.
I'll leave you with yet another good performance, by pianist Daniel Barenboim with Sir John Barbirolli conducting the New Philharmonia Orchestra. Here's the beautiful second movement of the Brahms piano concerto 1. Enjoy!!
Click to read about Brahms's first symphony, another masterwork from Brahms!
If you like my site, please click "Like"... thanks!