Franz Schubert
Biography of the Melody Master
Franz Schubert had a tragically short but extremely productive life. He had a special gift for writing lovely, enchanting melodies.
He died relatively young after years of illness. He had achieved a very small level of fame and success, but not nearly enough as his talents deserved.
Despite this short and not-too-happy life, he wrote nearly 1000 pieces of music!
People now see his life work as some of the most elegant and charming music of the 19th century. Sadly, it took an entire generation after his death, and a whole lot of help from other musicians and composers, for the public to realize this.
Contents:
Schubert's Unhappy Life
Lyrical Music
My Favorite Pieces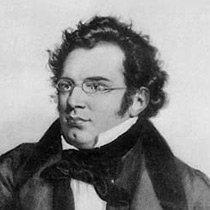 Franz Schubert was born in
Vienna on January 31, 1797
. His father was a teacher and amateur musician, and gave Franz basic music lessons.
Franz Schubert's school had an orchestra, and the youngster got the chance to discover and perform pieces by Beethoven and Mozart (click for biography).
He composed his First Symphony here, as well as quite a lot of other pieces.
Schubert later helped teach at his father's school for a few years, but he hated the work. He kept on composing though.
In fact, music flooded out of him!
In 1815 alone, for example, he wrote over 144 songs (and a fair amount of other music too). He had an ability to churn out songs almost effortlessly.
Click to explore Schubert's most popular songs!
At age 19, he met a student from a good family who convinced Schubert to quit teaching and live with him. From then on Schubert lived the life of a bohemian artist.
He met more influential musicians and admirers, and his circle of fans grew. They tried to promote and publish his work, but publishing houses were resistant because Schubert was still not very well-known.
Franz Schubert and his friends met regularly in Vienna's coffee-shops. Their little group was called the Schubertiads, and their aim was pretty much to have fun and listen to Schubert's music. Sounds like a great club to be in!
Schubert never seemed to be able to make much money from his music, and he mismanaged what he did earn. He always had to live on help and loans from friends and relatives.
Franz Schubert became ill during the last years of his short life. His music from this time has a deeper and darker nature, as he was probably meditating on death a lot.
He struggled with his illness for many years but kept on composing nonetheless. His music was now the only thing keeping him going.
He died on November 19, 1828, aged just 31, from either typhoid or syphilis (nobody is quite sure). He was buried next to Beethoven's grave, on his request.

I find Schubert's music very light and poetic. In my opinion, it doesn't have as much dramatic weight as some other composers, but it has a simple charm and grace which captivates the ear.
Franz Schubert is definitely best known for his songs. He wrote over 600 in his short life! I think this is because his ability to write straightforward melodies is perfectly suited to the song combination of voice and piano.
His three famous song cycles (collections of songs), the cheery and pastoral Die Schoene Muellerin, the darker Winterreise, and the contemplative Schwanengesang, are seen as masterpieces.
I agree - each song in these cycles is excellent, but when you put them together they tell a continuous story that takes the listener through a range of different emotions.
Schubert was also really really good at word-painting, which means illustrating the words or mood in a poem through the music.
For example, here's the opening of a piece about a little stream:
Notice how it sounds like a rapid bubbling stream?
Schubert also wrote oratorios, string quartets, piano trios, piano quintets (like the famous Trout Quintet), operas, many different forms of chamber music, marches and dances for solo piano, piano sonatas, and incidental music for plays.
There's too much to list, and I must confess I'm not familiar with it all!!
Some of his more famous pieces include...
Schubert Impromptus, two sets of little piano pieces which are great examples of Schubert's melody-writing abilities.

Der Erlkoenig, a stormy song after a text by Goethe (who wasn't too impressed with Schubert's attempts to add depth to his poetry!)
The Trout Quintet, a piano quintent with the last movement consisting of variations on Schubert's song The Trout.
The incidental music to the lost play Rosamunde
Ave Maria, a very popular religious song.
Unfinished Symphony, a musical enigma.
In the middle of the 19th century, Franz Liszt spent a lot of time writing transcriptions of Schubert's songs.
This helped to spread Schubert's music a lot. Liszt said that Schubert was the most poetic musician who ever lived. That's quite a compliment!
Even though his life was short and bleak, we're lucky that he was able to write so much. I'm very grateful that the musicians and public of the mid-19th century were able to pull him out of obscurity.
Thanks to them, Schubert's amazing melodies and touching pieces are now known to the world!
Explore Franz Schubert's legacy
All about the 600+ songs Franz Schubert wrote.
Schubert's Impromptus, poetic and moving piano works, more graceful and sophisticated than a lot of the composer's songs.
Schwanengesang, Schubert's last song cycle, a gloomy swan song to the composer's short life.
The Trout Quintet, an example of Schubert's skill at recycling musical ideas and making them sound even better.
Schubert's Unfinished Symphony, as famous as it is confusing...
There's a good Schubert video documentary and prints of a portrait of the master lieder writer by artist Paul Helm.
If you like my site, please click "Like"... thanks!