Schubert's Impromptus
Miniature Piano Gems
The Schubert Impromptus are two sets of delightful piano pieces.
Schubert's lyrical style shines in these works - the pieces are some of his most popular for piano.
There are two sets: Opus 90 (D899) and Opus 142 (D935). Each have four pieces. Schubert penned the first set, Opus 90, in the summer of 1827, and the second set in the last months of the same year.
Both sets were published before he died, which is amazing considering that the vast bulk of his music remained obscure until decades after his death!
At this point in his life Schubert was suffering quite a lot from various illnesses. He was so sick sometimes that newspaper published his obituary, even though he was still alive!
Some people think that he chose to write music that he could jot down quickly, like piano music, since he could write much more of it than a complicated symphony or opera (which has lots and lots of different instruments).
This makes sense to me, especially since he was probably very aware that he wouldn't live much longer.
The Schubert impromptus are a great introduction to the composer's music. They are lyrically simple - an excellent example of Schubert's gift for writing clear and beautiful melodies.
Schubert's publisher actually gave them the titles "impromptus".
Schubert was probably influenced to write them by a similar set of impromptus from a Hungarian composer which were published a few years earlier.
Click to listen to and explore Schubert's famous Unfinished Symphony, another piece which shines with the composer's melodic mastery!
Both Sets of Impromptus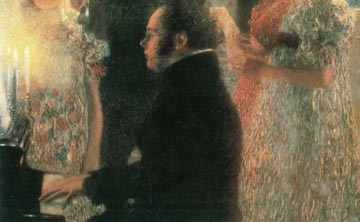 Opus 90
No. 1 in C minor: the longest work in the set, this is a march piece. To me, it's typically Schubertian piano music!
No. 2 in E-flat major: a light and flowing right-hand opening gives way to a darker middle section, before returning to the original melody.
No. 3 in G-flat major: with its long, beautiful melody, this calm impromptu is the most popular of them all.
No. 4 in A-flat major: a delicate piece, which reminds me of night.
Opus 142
No. 1 in F minor: a clever piece, with an inventive structure and lots of beautiful passages. Highly moving!
No. 2 in A-flat major: dramatic and touching, the music is mostly quiet and sensitive.
No. 3 in B-flat major: a theme with variations, this piece sounds like pure Schubert! Which may be because he reused the main theme from his incidental music to Rosamund.
No. 4 in F minor: a crazy riot - the most technically difficult impromptu, and the one which has the least melody!
Of the eight impromptus, No. 4 in F minor from the second set is my favorite. Here's an exciting performance from Krystian Zimerman, who I think does an excellent job of controlling everything and bringing out the gleeful madness of the piece...
Recommended Recordings
The best recording I know of the Schubert Impromptus is by Alfred Brendel.
Many listeners (including me) consider him a "benchmark" for these pieces, since his playing style is direct and confident, but also subtle and ethereal in places. He also manages to give the impression that the music is half-improvised as well (which is what "impromptu" means).
The recording is on a 2 CD set from Decca, which also includes Brendel playing Schubert's Moments Musicaux (counterparts to the impromptus), as well as a handful of dances for solo piano. An excellent collection!
You might also want to consider looking at the recording by Wilhelm Kempff (on Deutsche Grammophon), who has a slower and more lush sound than Brendel.
Also have a look at Schubert's popular Trout quintet.
If you like my site, please click "Like"... thanks!