Beethoven Biography
Life of Ludwig Van Beethoven
This Ludwig van Beethoven biography explores the dramatic life of the great musical master.
Ludwig van Beethoven is one of the most important figures in all of classical music. His gigantic influence made an impression on nearly every composer who came after him. He's definitely one of the all-time greats!
I love the raw power in his music. He radically reinvented lots of aspects of music, and injected raw personal emotions into his works (which was pretty new at the time!).
Beethoven Biography Contents:

He was the typical brooding genius: disconnected from society but worshiped for his powerful gifts.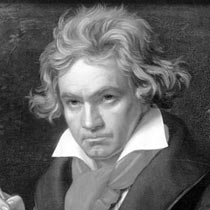 Beethoven was born in 1770 in Bonn, Germany. Both his father and grandfather were professional singers, so musicianship was in the family.
He started learning piano around age 4, taught by his father. He had a natural gift, and got good quickly.
Later on he became an assistant organist, and also played viola for the Prince-Elector's orchestra. He loved it, and thrived in the highly musical environment.
He moved to Vienna when he was 22 to study with the famous composer Haydn, who Beethoven thought was the greatest composer of all time.
Because of his enormous piano playing gifts, Beethoven was surrounded by the curious and interested Viennese social elite from early on in his career. This included most of the famous musicians of the day. Not bad!
Aristocrats were impressed by his talents, and supported him. He established himself as a famous piano player. But he wasn't really known for his compositions just yet!
In his late 20s, he started losing his hearing, and experiencing a loud ringing in his ears. Since Beethoven lived for music, his approaching deafness devastated him completely. Imagine - a divine gift and his only passion, being slowly taken away from him forever.
He thought seriously about suicide. After a catastrophic internal struggle, he decided it was worth it to keep going for his art. The world thanks him!
When he was 30, he premiered the famous Septet (Op. 20), one of his most popular pieces in his lifetime. He was now starting to become well-known and highly regarded as a composer, not just a pianist... the year was 1800.
This "middle period" is where Beethoven evolved as a composer, creating more heroic works depicting struggle and revolution.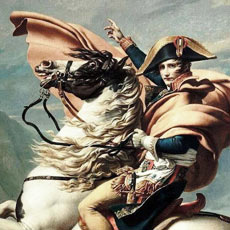 The biggest example of this is the Third Symphony, called Eroica (Italian for "heroic"), which he dedicated to the Corsican revolutionary leader Napoleon Buonaparte.
Click to read more about the epic Eroica symphony
Beethoven became more grumpy and irritable around this time. He started dressing scruffily and untidily, and was ruder towards other people. From here on he would care less and less about his appearance.
In fact he has a reputation of being a bit gruff and moody. Personally I think he didn't like conversation because of his hearing problems.
Some people think this is because he never managed to find a wife. But I think it's because his musical genius was flowering and he didn't have the right frame of mind to bother with useless social manners.
He was a stocky man. He would often stomp around Vienna (like later Viennese composer and Beethoven fanatic Johannes Brahms), deep in thought, looking like an eccentric genius. Which, I suppose, he was...
In 1809 various Princes and an Archduke gave Beethoven a lifetime annuity, but only if he stayed in Vienna. He readily agreed and settled there for the rest of his life. But late payments and currency devaluations make his income far from stable.
Beethoven wrote more symphonies (including the Fifth Symphony), string quartets, and his only opera Fidelio over the next couple of years as well.
He also composed some of his most well-known piano sonatas, like the Moonlight and the Waldstein.
We've arrived at the final part of the Beethoven biography...
The final years of Beethoven's life were tumultuous, the story of legends. By 1815 he was almost completely deaf, and his poor manners and personal appearance were even worse.
He spent a lot of his later life trying to gain custody of his nephew Karl, whose father (Beethoven's brother) died in 1815.
Beethoven, who wasn't very good as business or legal matters, used up a lot of his financial resources battling with Karl's mother. He eventually lost, which was a massive blow and damaged his ability to compose.
His music from this period is very intellectual and intense. Definitely the most famous piece from this time is his Symphony 9 (whose final movement has the "Ode to Joy").
He composed his last string quartets at this point, which shocked the musical world with their complex and modern sound.
Click to read about Beethoven's string quartets
He became quite ill during the last years of his life, with gout, rheumatic fever, and a variety of other illnesses. He began to sketch out a Tenth Symphony whilst suffering on his deathbed, but he never got to complete it.
While dying, his situation was terrible. He couldn't sleep at night, and he could barely move or drink. The grey skies outside only worsened his gloom.
Ludwig van Beethoven died in March 1827, after four operations on a stomach wound which eventually got infected. Twenty thousand mourners lined Vienna's somber streets at the genius's funeral.
There's been much speculation about the true cause of the great composer's death. I summarize all the ideas and provide my own opinion on the How did Beethoven die? page.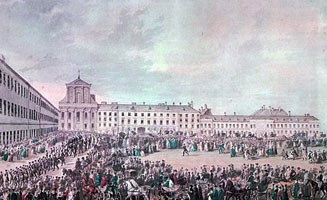 1770 Born in Bonn, 17th December.
1778 Performs in public for the first time, and his father lies about his age, advertising him as one year younger to get a bigger crowd
1780 Begins proper music lessons, and is praised by his teacher as being like Mozart (click for biography).
1787 Travels to Vienna and possibly meets Mozart) (no-one is quite sure! I like to think that it happened though).
1792 Goes to live in Vienna and studies with Haydn.
1800 Wins a piano duel against a famous Prussian pianist, and is celebrated as Vienna's greatest piano virtuoso. Also premieres his Septet and First Symphony this year.
1804 Premiere of the Eroica Symphony.
1808 Premiere of the Fifth and Sixth Symphonies.
1814 Fidelio Premiered.
1815 Beethoven's brother dies, and Beethoven tries to stop his sister-in-law from having guardianship of his nephew Karl by claiming to have aristocratic heritage (the "van" in his name, which is actually Dutch and not noble)
1819 The court finds out that Beethoven lied about being aristocratically-born. They rule in favor of the boy's mother.
1824 Premiere of the Beethoven Symphony 9.
1826 Beethoven has the first of several operations at the end of this year.
1827 Dies in Vienna on 26th March.

More on Beethoven and his pieces...
An overview of Beethoven's most important music - get to grips with the master's greats!
Some great Beethoven Quotes and pictures.
How did Beethoven die? A look at this mysterious question.
Fur Elise, probably Beethoven's most recognizable piano melody.
The poignant Pathetique sonata, one of Beethoven's earlier pieces.
Explore the inky mournfulness of Beethoven's Moonlight Sonata...
Kreutzer Sonata, the groundbreaking violin sonata which redefined the genre.
A look at Beethoven's String Quartets, some of my favorite music from the composer.
Third Symphony, the grand Eroica, which ushered in a new era of symphonic expression.
Fifth Symphony, one of the most famous pieces of music in the world.
The Pastoral Symphony, which was inspired by Beethoven's love for nature.
Seventh Symphony, a joyful celebration of dance.
Ninth Symphony, a grand masterpiece and hymn to universal brotherhood.
The master's stunning violin concerto, one of the greatest concertos ever written for the violin - all the more surprising since Beethoven didn't play the instrument!
Here's a a comprehensive resource on Beethoven.
Ed Chang has a great blog, LvB & More - The Daily Beethoven. It's a daily journal about Beethoven with video and commentary.
I hope you enjoyed this Beethoven biography, and that you've become inspired to explore Beethoven more through the links above!
***z-above-returnlinks.html***
If you like my site, please click "Like"... thanks!