Franz Liszt, Dazzling Virtuoso
Biography and Music
Franz Liszt was an astonishing piano virtuoso and an extraordinary man. He was a charismatic piano performer, a generous philanthropist, and composed beautiful music.
Liszt transformed how the piano was seen by audiences.
It went from an instrument which was not really regarded as that important, to a powerful and complex orchestral machine, capable of painting thousands of emotions.
Liszt's Exciting Life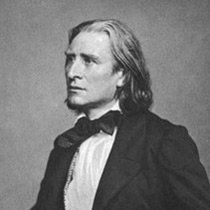 Liszt was born in Hungary in 1811
. He started learning piano at age 7, and grew up in Vienna (where he was taught by Carl Czerny) and Paris.
He was trilingual in French, German, and Italian, but wasn't very good at Hungarian though, which embarrassed him!
He was ridiculously good at piano when he was young. His hands were sometimes too small to play big chords on the keyboard though - so he'd make up by playing the missing note with his nose!
After hearing a performance by the violin wizard Paganini (in 1832), Franz Liszt resolved to become a great piano virtuoso. So he did what it took - he practiced technical piano exercises for 10-12 hours a day!
I don't think I'd have the patience to do that, but I'm certainly glad Franz Liszt did. His complete mastery of piano technique allowed him to write superhuman pieces of music.
His skill and fame peaked in the 1840s, when he toured all over Europe. From Russia to Portugal, he performed for kings, emperors, and everyone underneath.
He was showered with gifts and adoration. Hungary gave him a jewel-encrusted Sword of Honor in a magnificent ceremony. Wow!
He became immensely famous (a craze called "Lisztomania"!) and wealthy, although he gave away a lot of his money to good causes.
Liszt met Princess Carolyne zu Sayn-Wittgenstein during a concert in Kiev, and the two formed a strong relationship. She wanted him to focus more on composing, so Liszt gave up the stage and stopped performing.
A crazy thing to do, since he was still at the height of his piano powers. Still, I suppose it helps to immortalize his playing. Plus, we wouldn't have all of Liszt's beautiful compositions if he had kept on touring!
During the later part of his life Franz Liszt lived in Rome and received orders from the Catholic Church.
He regularly traveled between Rome, Weimar, and Budapest, giving piano masterclasses and free lessons.
He died of pneumonia in Bayreuth in July 1886, aged 74.
Liszt's Powerful Music
A lot of people (including me) think of Franz Liszt as
the greatest pianist who has ever lived
. This is for a few reasons...
He was the first pianist to hold concerts in which he was the only performer, and popularized the modern position of the piano during a recital (with the sound board facing toward the audience)
He had an insane level of technical skill. When he wrote the Transcendental Etudes, Robert Schumann said that he thought only 10 or 12 pianist in the entire world were good enough to play them
Liszt wrote over 1000 piano pieces (including lots of clever transcriptions of other composers' operas and symphonies), which is a huge contribution to the piano repertoire
Liszt is also the inventor of the tone poem, (also known as symphonic poem), which is basically a long orchestral piece connected in some way with something non-musical (a painting, a poem, a time in history).
Liszt wrote 13 symphonic poems altogether. The most popular is Les Preludes, a beautiful free-flowing piece.
Here is a "Liszt" (oh dear!) of the composer's most famous and popular pieces...
For a great sample of Liszt's most popular music, have a look at this Best of Liszt CD...
More on Franz Liszt
Liszt's Consolations, short piano pieces bursting with Romantic beauty and color.
The popular tone poem Les Preludes. What's it about?
The Faust Symphony in three character pictures, a fantastic musical re-telling of the famous German legend.
The Dante Symphony, Liszt's most ferocious orchestral work, inspired by Dante's Inferno.
The Mephisto Waltz No 1, also inspired by the Faust legend, this is one of Liszt's most popular show pieces!
Liszt's Hungarian Rhapsodies, an epic collection of virtuoso piano pieces celebrating Liszt's Hungarian heritage.
Liszt's Sonata in B Minor, a supreme masterpiece and undoubtedly Liszt's single greatest piano work.
The god-like Transcendental Etudes, supreme tests of technical skill and interpretative creativity. At one point only a handful of pianists in the entire world were capable of playing them.
The diabolical Totentanz, or Dance of Death, a terrifying piece for piano and orchestra.
If you like my site, please click "Like"... thanks!