Brahms's 1st Symphony
The Grand Music of the First
Brahms Symphony 1 is monumental. It took him decades to perfect his First Symphony, but established him as the heir to the master composers of the past.
Let's take a closer look at the history of Brahms First Symphony...
History

Ever since Robert Schumann wrote his famous article talking about how much of a musical genius Brahms was, everyone expected Brahms to write a symphony.
When he did, people were going to pick through it note by note, judging every pen-mark. It could make or break his whole career!
So, in 1854, young Brahms set to work, sketching out his first symphony.
He must have realized that he needed more practice though, since he never got around to scoring it for orchestra or even publishing it.
From then on he started treating this most sophisticated and powerful genre, the Grand Symphony, with almost religious respect.
He wanted to be absolutely certain that he could write something noble enough to live up to his reputation and honor Beethoven's memory.
So he spent 20 years writing the Brahms Requiem, the first Piano Concerto, and an assortment of other works to beef up his orchestra-writing skills.
Brahms was daunted and half-paralyzed by Beethoven's legacy: "You have no idea how it is for the likes of us to feel the tread of a giant like him behind us!" he wailed. The public's expectations grew, and everyone thought that he would write the next Beethoven 9th.
Click to read about Beethoven's life and works.
But he eventually got round to completing it and polishing it up. By this time he was middle-aged, much more mature, and already a very active and well-respected composer.
His years upon years of patience and preparation paid off. At the premiere of the Symphony (4th November 1876 in Karlsruhe, Germany), everyone recognized it as a grand masterpiece. Brahms's reputation as the successor to Beethoven was solidified.
Some critics even started calling it Beethoven's Tenth! To Brahms, who worshiped Beethoven like a god, this was the highest possible praise.
Symphony's Music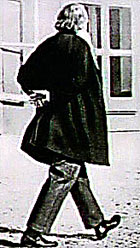 The Brahms Symphony 1 is typical of the composer: vast, complicated, intelligent, but with a sweet soul and a direct power that any human can appreciate.
Brahms managed to blend the traditional structures and ideals of the Classical-era with the golden hues and soaring beauty of Romantic-era music.
He proved that both styles could be friends and work well together.
The First Symphony is definitely inspired by Ludwig van Beethoven. Apart from the big string melody in the last movement (which Brahms wrote as a deliberate homage to his hero), there are also a few other similarities.
Instead of having the bulk of the First Symphony at the beginning, as is traditional, Brahms followed Beethoven's example and made the epic powerhouse 4th movement the main attraction.
Another simple Beethoven-esque feature is that the Symphony starts in a stormy C minor, but ends on a glorious and positive C major. This is the same as in Beethovens 5th Symphony.
Here's a quick look at each movement...
1st movement, Allegro (Quick)
A dramatic introduction (added after everything else in the symphony was done) sets the scene. This movement is a huge traditional Sonata, with 3 sections.

One of the main themes in this movement sounds similar to the "Fate" motif from Beethovens 5th.

2nd movement, Andante Sostenuto (Walking pace)
The second movement of the Brahms Symphony 1 is much more gentle and peaceful than the first. It has a beautiful violin solo towards the end.
3rd movement, Un poco Allegretto e grazioso (a little quickly, gracefully)
The third movement is also calm in places, but more energetic than the second movement. Still, it has a sweetness and a lightness to it. It's the shortest movement, and my favorite.
4th movement
Ahh, now we come to the heavy stuff! We start with a slow, dark introduction, which to the audience at the premiere probably indicated that they were about to see what Brahms was really made of.

The darkness swamps and flows until, from behind the quiet roll of the timpani, we hear a noble melody. Brahms called this one the "Alphorn", and to me the name fits perfectly. The tune has the vastness of a spectacular mountain landscape:

Shortly after this we hear the "big theme", which reminds so many people of Beethoven's 9th symphony. Can you see the resemblance?

Brahms further develops these two themes, again following the traditional Sonata form. The Brahms Symphony 1 finished on a powerful series of C Major chords, to tell us that the ending is triumphant:
Good Recordings
For a great recording, you can't go wrong with
Herbert von Karajan's
interpretation from the late 70s, with the
Berlin Philharmonic
.
This recording has precise playing, a rich orchestral sound, and just the right speeds. But it can sound a bit dry when you compare it to Karajan's other recordings from the 60s. The recording (on the DG label) comes with the other three Brahms symphonies.
You might also like to consider the later recording featuring Simon Rattle conducting the very same orchestra, which has much better soundstage, and generally better audio quality than Karajan's. Rattle's performance is also more subtle and elastic, and slightly less dominating.
I can also recommend the recording from conductor Georg Solti with the Chicago Symphony. This bass-heavy, spaciously-recorded performance has a wonderful range of dynamics, and Solti brings out each individual strand of music beautifully - no easy task considering the complexity of some of Brahms's lines! Available on Decca.
Here's Karajan with the Berliner Philharmonic performing the Finale to the Brahms Symphony 1, the composer's decades-in-the-making masterwork:
part 1:

part 2:

You might also be interested in Brahms's Requiem, a similarly epic Brahms masterpiece!
If you like my site, please click "Like"... thanks!