The Brahms Horn Trio
An Uncommon Music Elegy
The Brahms horn trio is an unusual combination of piano, violin and horn. The piece's calm beauty was inspired by the Black Forest, and the death of Brahms's mother.
Brahms actually wrote his horn trio (Op. 40) for natural horn, or Waldhorn (like the ones used for hunting) instead of modern valve horn. This type of horn was out of date at the time.
It probably didn't help his "bad" reputation as a composer who wrote old-fashioned music!!
History and Music of the Trio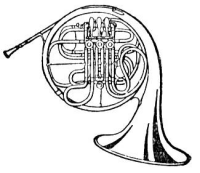 The horn trio was inspired by Brahms's mother's death in 1865 (like his German Requiem). He was extremely close to her, and began to work on the piece just after she died.
Click to read about Brahms's German Requiem
When a friend called in on Brahms after the funeral, the composer was playing Bach on the piano and weeping.
The valve horn was an instrument he learned as a young boy. Using a hunting horn for the piece was partly a way of remembering his early childhood with his mother.
This was probably the reason he didn't like the "modern" valve horn, which he thought ruined the special characteristics and sound of the horn. I tend to agree with Brahms here!
The horn makes for an interesting combination of sounds. It's unusual, since it shouldn't really work... a loud horn would surely overpower the other two instruments!
But Brahms somehow managed to blend it in perfectly. It adds and extra dimension of power in loud bits, and a warmer feeling in the quieter parts of the piece. Its simple sound injects the Brahms horn trio with little pictures of nature.
The movements of the Brahms horn trio are also a bit unusual. A typical classical structure has the four movements as:
I. fast tempo, II. s l o w, III. fast, IV. fast.
But Brahms alters that a bit in his horn trio, to run:
I. s l o w, II. fast, III. s l o w, IV. fast:
Andante (Walking pace)
Scherzo (Playful)
Adagio mesto (Slowly and sadly)
Allegro con brio (Quickly, with vigor)
This is a strange move from a composer who was normally completely committed to following traditional structures! But I think that he used a slow movement to start with simply because it was the best way of opening this musical elegy.
Brahms goes even further though (very unusual for him!) and doesn't use sonata form (a grand traditional structure, typically the first movement of a symphony) for the first movement. Instead he simplifies it, with an easy to follow structure.
Brahms was meandering through a summer forest early in the morning when the opening horn melody came to him. Brahms walked a lot, and usually mulled his musical ideas over in his mind while out strolling.
The music has a personal feeling. The second and last movements are lively and evoke images of hunting and exploring in nature.
The third movement is a beautiful well of emotion. It also makes use of a German funeral melody called "Wer nur den lieben Gott lasst walten" (If thou but suffer God to guide thee).
Nowadays horn players perform the Brahms horn trio on a modern valve horn (like the one in the picture).
If you're more interested in the structure of the piece, take a look at this in-depth analysis for performers of the horn trio.
Recordings
My favorite recorded version of the Brahms horn trio is by
Rudolf Serkin, Michael Tree, Myron Bloom
, from 1991 on Sony (the recording also has the Brahms sextet Op. 36).
The horn sounds wonderfully alive and expressive in this performance, more than any other recording I've heard. The whole trio manages to sound exciting in the fast movements, and mellow in the slow movements. A standing ovation and a strong recommendation from me!!
This is a great video of a performance of the Brahms horn trio by Daniel Barenboim, Itzhak Perlman, and Dale Clevenger. They're playing the fourth movement here, which is my favorite one. It's great to watch how engaged these performers are with the music, and the setting is magnificent!