Georges Cziffra
The Magical Hungarian Improviser
Georges Cziffra overcame a background of poverty and bad fortune to forge a brilliant career as a world-class pianist.
His playing is full of mesmerizing velocity and acrobatics. But it's his skills as an improviser that really make his music shine.
Life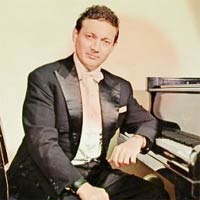 Gyorgy Cziffra was born in 1921 in Budapest, Hungary, to an extremely poor family. He was a sickly child, fascinated by the piano. He didn't learn proper theory at first, but figured out music on his own and let his hands become masters of the keyboard.
He was soon improvising away with magnificent skill, inspired by the picture books and stories he loved to read.
At the age of 5 he was recruited by a circus to perform as a child prodigy. He was paid handsomely (and beaten up by other children in his slum because of it), but his illness caught up with him and he had to stop after less than two weeks.
The Franz Liszt academy snapped him up when he was 9, and he impressed the teachers so much they felt they had to put him in the advanced masterclasses. He stayed there until he was called up to fight in World War II, at the age of 21.
During the war he served on the Polish front, enduring icy mud and horrible battles. He longed to play piano during his time in the army but couldn't.
But during one chance recital where he thrilled the audience, a Nazi Major General heard him and offered to send this immense talent to Germany, away from danger. Cziffra was going to accept but was captured by the Russians shortly after.
He was forced to fight for the Soviets, before he sank into a life of alcoholism and brawling at end of and briefly after the war.
In Budapest after the war he became a minor celebrity and performed in bars, at weddings, and all sorts of other events. People queued up to hear this miraculous pianist perform, with seeming superhuman skill and vitality.
Hungary in the early 50s was under Communist rule, and Georges Cziffra was arrested for trying to escape the Communist bloc with his family (his Egyptian wife Soleilka and their son). He was beaten up and stuck in prison.
Later he transferred to a camp where he was forced to lift heavy blocks of stone for 10 hours a day, building a staircase in a University. His wrist muscles were so strained that he wore leather wristbands to stop them swelling.
When he was released in 1953 he hadn't touched a piano for 3 years.
His wrists and fingers were so damaged and swollen that he couldn't play or even practice piano. He gradually got back on his feet and resumed his old career, until the state commissioned him to perform proper classical recitals.
But he managed to flee to Paris with his family, where he gradually built a career as in international piano star.
He also converted an old chapel into a music foundation which helps young musicians. He named it the Franz Liszt auditorium, after his hero.
Georges Cziffra died in 1994 of cancer.
Playing Style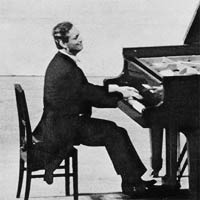 Cziffra's playing style was flashy, fiery... and intense! He took quite a few liberties with the music, adding in his own little improvisations and messing around with the speed. Some criticized this, while others praised it as the special style of a genius.
His speciality was his recordings of the Romantic-era repertoire, such as Liszt and Chopin.
He was a god-like improviser, able to create music effortlessly, mix in famous melodies, and blend multiple songs together.
Here's a video in which you can see his inhuman speed and power. Here he performs Liszt's famous showpiece Grand Galop Chromatique:
Recommended Recording
I suggest you get this double CD of Georges Cziffra performing various pieces by Liszt and Chopin if you want a great introduction to his playing. He blazes through these pieces masterfully, leaving you breathless...
Click here to explore the life and playing of pianist Dinu Lipatti, also immensely gifted with musical abilities...
If you like my site, please click "Like"... thanks!