Grieg Piano Concerto
A Fresh, Dazzling Masterwork
The Grieg Piano Concerto in A minor is sparkling, exciting, and fresh. Explore this hugely popular work here...
From the crashing opening chords to the wild, inventive climaxes and sublime melodies, the work has captured the imagination of listeners for over a century.
But it's quite unusual for Grieg, since he hardly ever wrote any large-scale works. It's the one piece which stands out in the sea of miniature pieces he penned.
He never really attempted to write another huge piece. He played around with the idea of a second piano concerto, but nothing came of it except a few sketches. So the piano concerto has an extra-special place in Grieg's output.
History of the Grieg Piano Concerto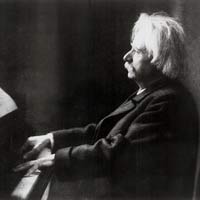 The young Grieg was enormously inspired by Robert Schumann's music, which blended Germanic precision with a heady Romantic-era feeling. Schumann's piano concerto in particular was a wonderful piece.
So perhaps Grieg, still young and not having found his place in the world of music just yet, wanted to create something grand, great, that would move mountains.
After the Griegs' daughter was born in 1868, 24-year-old Edvard went into the Danish countryside to write music. Here he outlined the piano part in his new concerto. He finished writing it by the end of that year.
Grieg missed the premiere in Copenhagen, but it was extremely successful nonetheless.
The great pianist-composer Franz Liszt was in love with the piece and raved about Grieg's talents. The story goes that Liszt played it through, orchestral parts and all, in the first go from sight (without having seen it before).
"This true poet has added another string to our lyre", said Liszt after. High praise if there ever were any!
The composer continually made little changes to the piece, snipping out bits or swapping around the instrumentation. He obviously felt very close to his piano concerto, since in total he made more than 300 changes to it.
Inventive Music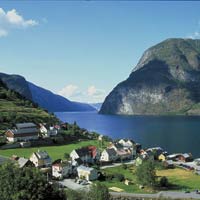 To me, the music in the Grieg piano concerto sounds very modern for its day. It's certainly extremely pleasing, full of nourishing music that isn't too pretentious or sentimental, but still thrilling.
There's a simple delicacy, a graceful but unstrained magic in the Grieg piano concerto. The concerto is balanced near-perfectly - none of the ideas or themes are too long or too short.
The opening is one of the most exciting and recognizable moments in all western classical music:
From there it only gets better and better. Here's an overview of the three movements...
Allegro molto moderato. The heart-stopping opening leads to catchy melodies and an interplay between the piano and orchestra. The movement ends with a thundering cadenza where the pianist shows off his mettle, before opening flourish returns to rounds it off nicely.
Adagio. A slow, gently sweet movement. If the first movement stops your heart, then this warms it up and melts it.
Allegro moderato molto e marcato. Back comes the excitement! A dashing movement full of surprise and fun. The blood and thunder of the first movement is replaced by a slightly quirky sense of agitation. The concerto ends with a grand, sweeping melody.
About that ending melody...
When Liszt, in his play-through, reached, it, he was absolutely ecstatic. Grieg adds a clever twist and changes one note slightly, which gives the whole concerto a different mood.
Here's the original melody:
And here's the subtle change:
The piano concerto also has little snippets of Norwegian-inspired dances, but dressed up to sound romantic and modern. It's almost the beginning of Grieg's fascination with the traditional music of his homeland.
Recordings
Hmm, how to choose a recording of one of the most popular piano concertos of all time? Well, let's see what Grieg would have done...
Grieg's favorite pianist was the eccentric Australian Percy Grainger. They met when Grieg was an old man and Grainger a relative youngster full of life.
Grieg was fascinated with the man's ability to play Scandinavian music exactly the way he thought it should sound - child-like, exciting, with charm and grace.
So Grainger's 1921 piano-roll on Duo-Art recording would be a good start for those wanting to hear Grieg's vision.
This recording features a modern orchestra and a top of the line piano, but using Grainger's old piano-recording to play it. Grainger's playing is certainly unique and powerful. The orchestra (Kristiansand Symfoniorkester) with conductor Rolf Gupta has to be especially noted for performing with an invisible, long-dead pianist.
The recording is also interesting because of the format - it's in ultra-high quality Blu-ray.
There are two other recordings I can recommend. One is a near-definitive 'classic' recording from 1960, with soloist Leon Fleisher and the Cleveland Orchestra conducted by George Szell.
This interpretation is thoughtful, not overly flashy, and very intense. The recording also has the Schumann piano concerto so you can see the inspiration for Grieg's masterwork.
And finally, if you want a more energetic, modern recording of the Grieg piano concerto, I recommend pianist Leif Ove Andsnes with the Bergen Philharmonic conducted by Dmitri Kitajenko.
Poetic, powerful, and great fun, this is a solid contemporary performance. The great bargain here is that this recording comes as part of a 2-CD set, with a range of other great Grieg music.
If you like my site, please click "Like"... thanks!