Ravel's Bolero
A Mechanical Dance
The Ravel Bolero is a bit of a musical oddity. It's pretty much the same rhythm and melody repeated over and over (and over...) again, by different instruments in the orchestra.
There's no development. Nothing new. Yet it's by far Ravel's most popular and well-known piece.
Rather strange - the Bolero's great, for sure, but Ravel wrote so much other excellent music that is more beautiful and interesting.
So why? Let's try to find out...
Bolero History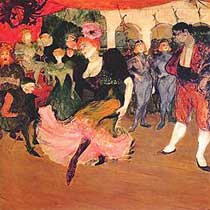 The Ravel Bolero started life as a glint in someone's eye. Not Ravel's though!
The eye belonged to a ballet dancer called Ida Rubinstein, who in 1928 sweetly asked Ravel if he would orchestrate some piano pieces by Spanish maestro Isaac Albeniz for a ballet.
Ravel agreed, but after changing his mind several times he decided to write a brand new orchestral piece instead. He stuck with the Spanish theme and chose a dance style called the Bolero.
A Bolero has a very typical rhythm...
...and Ravel thought, for some reason, that it would be a good idea to repeat this over and over again.
He added a winding, Spanish-Arabic melody over the top (which also repeats), and penned it out for a big orchestra.
Slapping his signature across the top was the final step, and the Bolero was born. The premiere was towards the end of November 1928 at the Paris Opera, where a small ballet was staged to the music.
It was a wild success!
Soon afterwards it got recorded, the first of many times throughout the 1930s. Ravel himself, among others, conducted it loads of times as well (with a tempo that sounded a bit like a metronome, apparently!).
The famous conductor Arturo Toscanini once performed it with the New York Philhamonic, when Ravel was in the audience.
The crowd gave a roaring standing ovation. But Ravel ignored Toscanini when the conductor waved at him during the applause, since he thought old Arturo had played it ridiculously fast. This little controversy only made the piece more famous though!
Ravel was a bit confused by how successful the piece was. He didn't think the work was worth much - in fact he predicted that most of the good orchestras wouldn't perform it.
The work has only gotten more popular, and nowadays people consider it one of the most popular pieces of classical music ever.
Mechanized Music
The music of the Ravel Bolero is actually rather simple...
It's the same melody repeated 18 times, on different orchestral instruments, with a nice little harmony pattern underneath.
That's it!
Ravel was inspired to write the mechanical rhythm by a factory he visited as a child.
The whole piece is also one loooooong crescendo, basically getting slightly louder and louder each minute. At the very end the loudest point is reached, complete with dramatic sliding trombones and crashing cymbals.
In fact, here's a visual representation of Bolero's volume as it goes from start to finish:

Some bored psychologists strangely claimed that since Ravel repeated the same melody 18 times, he must have been pathologically ill. But this is a silly idea!
You might be interested in some of Ravel's more imaginative music, such as the beautifully epic Daphnis et Chloe, or the colorful Mother Goose suite.
Good Recordings
There are so many recordings of Bolero that it's quite fun to go through them all and find your favorite.
The recording on Decca by Charles Dutoit with the Montreal Symphony Orchestra is a popular one. Great quality and elegant playing, this is a good starting place.
But here's a video of what I consider to be the definitive recording of the Ravel Bolero.... conducted by Maurice Ravel himself!!
It's in four parts, since the recording is on vinyl.
If you like my site, please click "Like"... thanks!