Vladimir Horowitz
The Famous Supreme Pianist
Vladimir Horowitz was the most famous pianist of the 20th century, worshiped for his superhuman playing skills.
His performances were hugely exciting, drawing hordes of fans and glowing praise from critics. But he was also plagued with stage-fright and depression throughout his 7-decade career. Let's explore his life and playing...
Vladimir Horowitz's Life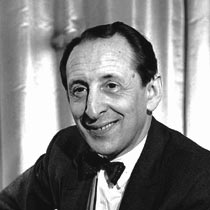 The future piano-god was born in Kiev, Ukraine in 1903. When his mother, a talented pianist, noticed he had a natural ability to play the instrument, she started to teach him.
The mystical composer Alexander Scriabin was also an early influence. Great start!
Horowitz studied piano at the Kiev conservatory and gave his first public performance at age 16. Before long he was touring up and down Russia, being paid with butter and chocolate due to the country's political instability at the time.
Sadly, deep down he wanted to be a composer more than anything. But he had to perform to help his family, who had lost everything in the 1917 Revolution.
But luckily his reputation as a pianist was growing. In 1925 he managed to sneak out of Soviet Russia, never (well, almost) to return...
The next year he performed in a couple of major European cities, increasing his reputation even more. He was then invited to perform in America.
Horowitz performed in Carnegie Hall in New York City in 1926 (playing Tchaikovsky's 1st piano concerto with the New York Philharmonic). He was such a massive success that he received rabidly positive reviews across the board.
This put him on the global musical map. Vladimir Horowitz was now a star!
He also met composer Sergei Rachmaninoff in New York. The two instantly became close friends.
Horowitz gave concerts all over the world until 1953, when he shocked music lovers and retired early. He had had one too many bad experiences with stage fright! The pianist now devoted himself to making recordings.
But by the next decade he was back on-stage. He then 'retired' again... and repeated the cycle three more times, right into the 1980s.
His last world tour was a 'goodbye' tour. The aging pianist, in his 80s, still managed to exhilarate his audiences. At this stage he was performing purely for the love of music.
Horowitz died in 1989 in New York City from a heart attack. He was 86. Four days before his death he had recorded a powerful last recital.
Click to explore the life and playing of Arthur Rubinstein, a contemporary of Horowitz, but with a completely different playing style...
Horowitz's Playing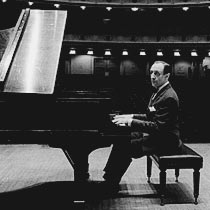 This keyboard magician's astonishing piano playing is what earned him his worldwide fame. He electrified his audiences and made the music really come alive.
His sheer technical ability was almost supernatural. He could play brilliantly and ultra-fast like some kind of machine, but always with a Romantic spirit.
Audiences were thrilled! There was hardly another piano player on Earth who could excite listeners so much.
His playing also had an extremely spontaneous and elegant feel. He could make the piano roar like a savage tiger one moment, only to play the most exquisite quiet passages the next.
When playing, his face always had a look of deep concentration, and he never moved his body. He hardly ever lifted his hands up high or made a show of his playing, even though his interpretations were powerful and flashy.
Vladimir Horowitz was especially famous for his interpretations of Rachmaninoff.
The two once went to the Steinway shop in New York, and Horowitz played Rachmaninoff's 3rd Piano Concerto whilst the composer accompanied on a second piano (wow!!).
Rachmaninoff was astonished with Vladimir's playing. The composer said that the pianist was the only one who could play his 3rd Symphony the way he imagined it.
Horowitz was also hugely famous for his Liszt interpretations. The pianist's dazzling playing style was well-suited to Franz Liszt's music.
The pianist made a couple of transcriptions of Liszt's Hungarian Rhapsodies, making them even more exhilarating and impressive!
Videos
Here are videos of Vladimir Horowitz playing Rachmaninov and Liszt...
The pianist's astounding transcription of Liszt's Hungarian Rhapsody #2:


Rachmaninov's 3rd piano concerto:


For a great intro to Horowitz's skills, I recommend The Best of Horowitz:
If you like my site, please click "Like"... thanks!