Tchaikovsky's Music
Famous Melodies and Evocative Moods
Tchaikovsky music ranges from the happily energetic to the breathtakingly tragic. Let's look at this world-famous composer's style and most popular pieces...
Tchaikovsky's beautiful melodies and creatively colorful orchestration captivate listeners and paint vivid worlds in their minds.
For example, the Nutcracker Suite brings back strong associations of childhood Christmases for me whenever I hear it.
Tchaikovsky music is very easy to listen to. The composer wanted to express himself by writing music that was clear and simple to understand when you first hear it.
I think this is part of the reason that he's popular with a very wide audience. After all, how easy is it to enjoy music your ear can't figure out?
Tchaikovsky's Style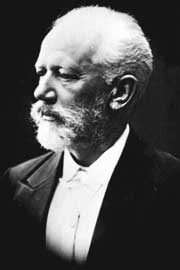 Peter Tchaikovsky was trained in the St Petersburg Conservatory, where the students were taught much more of a western style of music theory and composition. Most of the other famous Russian composers of the time were trained in Moscow, however.
Because of this difference in training Tchaikovsky composed in a relatively "western" style. So Tchaikovsky music has a Russian character and Russian melodies, but at a musical standard high enough for Western European audiences. The best of both worlds!
Tchaikovksy was proud of his professionalism in composing (the quality of his work). He wanted to make a name for himself, to have as many people hear his music as possible.
Historians think that Tchaikovsky was actually the first truly professional Russian composer! I think this combination of professional quality and ambition is why Tchaikovsky music is well-known even today.
The composer wasn't opposed to creating pieces just to please the public or aristocratic patrons. His 1812 Overture is a good example of a piece he composed just because he was commissioned to, without really having any artistic passion for it.
Popular Tchaikovsky Music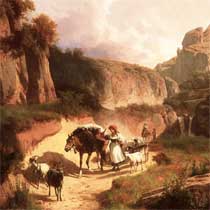 Tchaikovsky had 74 works published in his lifetime and 6 after he died. Here's a list of his most famous and interesting pieces...
Two pieces for piano: Scherzo a la Russe and Impromptu, Op. 1. Tchaikovsky's first published pieces.

Souvenir de Hapsal, 3 pieces for piano, Op.2. Tchaikovsky was inspired to write these works after a visit to the town of Hapsal with his brothers. I really like these pieces.

There's something mysterious and sad about "Ruins of a Chateaux", one of the pieces in the set. I think it would turn out really well if it was scored for orchestra too (shame Tchaikovsky didn't do this!).

String Quartet No. 1 in D Major, Op. 11. Tchaikovsky's first string quartet. The second movement is based on a folk melody the composer heard from a house painter. Leo Tolstoy apparently was brought to tears by this movement's sad beauty.
The Tempest, Op. 18. A soul-stirring Symphonic Poem based on Shakespeare's play. I think the love melody in this piece is even more moving than the famous Romeo and Juliet Overture love melody. Here's the one from The Tempest:

Your browser does not support the audio element.

What do you think?
Swan Lake, Op. 20. Tchaikovsky's first ballet. The story comes from Russian folk-tales, and the ballet has very famous melodies. It was the first ever ballet to be written by a symphonic composer (instead of a special ballet composer), and for that reason it is famous in the history of ballet as well.
Piano Concerto No. 1 in B Minor, Op. 23. Another piece with a very famous melody. This is an amazing display of piano talent!

Violin Concerto in D Major, Op. 35. Tchaikovksy's only violin concerto. It wasn't received very well by critics at first! It's now seen as one of the hardest pieces for violinists. It has a really bright and fresh sound.
Symphony No. 4 in F minor, Op, 36. A powerfully autobiographical piece of music. This is the first symphony where Tchaikovksy moved away from traditional musical forms, so that he could focus on expressing his emotions instead. The piece illustrates fate, tension, and drama. These feelings reflect the problems he had in his personal life at the time.
Capriccio Italien, Op. 45. This light-hearted and energetic piece was inspired by the composers' trip to Italy.
1812 Overture, Op, 49. Another ridiculously famous Tchaikovsky hit. A lot of people know the music, but not who composed it! The piece was commissioned to celebrate the anniversary of Russia's victory over Napoleon's Grande Armee in 1812.

The piece is very showy (it has cannons in it towards the end), but Tchaikovsky himself didn't like it. He said to his patroness that it was "very loud and noisy, but [without] artistic merit, because I wrote it without warmth and without love".

Piano Trio in A Minor, Op. 50. A dark sounding piece, composed in memory of Nikolai Rubinstein (Tchaikovsky's close friend). It's a popular piece, and said to be some of the most difficult piano music the composer ever wrote. I really like the melodies in it and its melancholy sound. It was also played at Tchaikovsky's own funeral, ironically.

The Nutcracker Ballet, Op. 71, and The Nutcracker Suite, Op. 71a. A famous ballet with loads of well-known melodies in it. Tchaikovsky didn't like the subject matter at first, but warmed to it later on. The Suite is a wonderful 20 minute collection of some of the dances and pieces from the ballet.
Tchaikovsky Symphony 6 in B minor (Pathétique), Op. 74. Tchaikovsky's epic and devastating last symphony. I described this one above - make sure you watch the video! It's really great.
Videos of Tchaikovsky Music
Here's a small selection of Pyotr Ilyich's music...
Manfred Symphony, op. 58. Inspired by a play by Lord Byron, this dark and brooding symphony showcases Tchaikovksy's mastery of the orchestra. The clip here is part of the first movement:

Romance Op. 5 in F Minor. Tchaikovksy composed this moving piano piece for an Italian opera singer he was infatuated with. It's well-balanced, with a sad and romantic outer sections and a happy middle section. It reminds me of winter:

Legend, Op.54 no.4. A little-known song for piano and voice. It is stark and short, but it has a raw and gripping sound that moves many listeners to tears. This exceptional performance is by Nicolai Gedda.

Waltz from Sleeping Beauty Ahhh, time to finish with some joyful Tchaikovsky music! He was especially talented at writing happy little dances for his ballets, filled with magical fairytale colors and imagination. This waltz is one of the most popular:
Want a quick intro to Tchaikovsky's greatest, most popular music? Check out at Naxos's Best of Tchaikovsky...
If you like my site, please click "Like"... thanks!